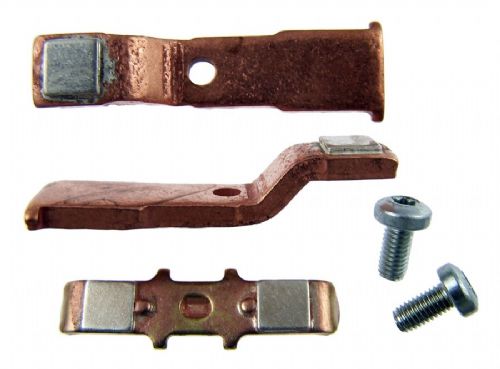 Replacement contacts and contactor kits versus original OEM parts
Repco reverse engineers and manufactures
electrical contacts
. We do so by using the same metals and alloys used in the original part. Industry standard CDA 110 copper, 90/10 silver mixes, and various platings are used to manufacture the contact. Then Repco tests the replacement electrical contacts for fit, form, and function - allowing us to guarantee an exact replacement.
Manufacturing facilities generally require various electrical contacts and kits
Even if a factory uses control equipment from a single vendor it's likely contacts of various sizes and types will be required. Or more typically, a manufacturing plant will require many different brands of contacts due its installed base. Repco stocks contacts for 25 control manufacturers covering more than 100 current and obsolete series. Moreover, our industry experience and knowledge allows us to
identify and match contacts and contactor kits
quickly.
Our large in-stock inventory can save you money
By stocking a wide assortment of contacts and contactor kits (along with carbon brushes and operating coils too) we're able to help customers tie-up less money in inventory. Further,
just-in-time inventory
, can help get equipment operational again quickly. Orders placed by 3pm (EST) ship out the same day and can ship priority overnight - minimizing plant downtime and manufacturing interruptions.
We're focused on replacement electrical contacts
Repco's success is built upon our commitment to serving our customers. We understand we're only as good as our products. Since 1990 we've worked hard to deliver replacement electrical parts and we continue to work hard every day insuring that our products perform exactly as expected.
The conclusion replacement vs OEM contacts?
Repco's replacement electrical contacts are manufactured to be an exact replacement to their OEM counterparts. They're guaranteed to match the OEM in fit, form, and function. Our replacement contacts are more affordable and available for overnight shipping - allowing you to avoid inventorying replacement parts. It's a clear advantage for
Repco replacement contacts
- so give us a call today!
i am trying to replace a contact for myoutdoor air condition unit the old one has l1 l2 t3 t1 the new one to replace it as nothing the number ia rbm type 121 could you please send me a dig thank you
6/12/2012 11:11:39 AM
~ alphanso rose
Leave A Comment Now