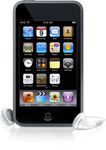 Perhaps you'll recall that the challenge was to provide a best solution to the problem faced by four high school boys who skipped morning classes to avoid taking a test. The excuse they provided was that they had a flat tire. The teacher then asked them which tire was flat. We asked for an answer that would keep them from detention.
And the winner is Richard Vairin of Motor & Controls Inc. He wrote, "The tire that was out of air was flat!"* Congratulations Richard and enjoy your new Ipod touch.
* Three respondents provided similar answers. The winning submission was chosen randomly from this group.